In the quiet town of Klamath Falls, Oregon, a horrifying tale has unfolded that has sent shockwaves across the nation. Negasi Zuberi, a 29-year-old man, has been indicted on charges of kidnapping and transportation with intent to engage in sexual activity. The story that has emerged is one of terror, violence, and a desperate escape from a makeshift dungeon. We delve into the details of this chilling case.
The Kidnapping and Assaults
On July 15, Zuberi traveled from his home in Klamath Falls to Seattle, where he posed as an undercover police officer to solicit the services of a prostitute. The victim reported that Zuberi pointed a Taser at her, placed her in handcuffs and leg irons, and then drove her more than 450 miles back to his home.
During the drive, Zuberi stopped to sexually assault the victim. The woman realized she was being kidnapped when she noticed a map application on Zuberi's cellphone indicating they were far from their destination. Upon arriving at his home, Zuberi placed the woman in a makeshift cell constructed in his garage, made of cinder blocks and a metal door locked from the outside.
The Escape from the Dungeon
The victim knew that her life was in danger. She told authorities that she knew Zuberi would kill her if she stayed in the room. In a desperate act of courage, she repeatedly banged on the door until she was able to break her way out of the cell.
After escaping, she flagged down a local motorist who called 911. She was taken to a nearby hospital, where detectives responded to a report of a rape victim. Police later located blood on the wooden fence the woman had climbed over during her escape.
The Arrest and Investigation
Detectives tracked down Zuberi using cellphone technology a few hours later in Reno, Nevada. After a standoff, he was taken into custody in a Walmart parking lot.
A search warrant led to the discovery of the makeshift cell and other items, including the victim's purse, in Zuberi's garage. The FBI believes that Zuberi targeted sex workers or roommates in multiple states between August 2016 and July 2023.
Zuberi, who also goes by the names Sakima, Justin Hyche, and Justin Kouassi, is believed to have used various methods to gain control of his victims, including drugging their drinks and posing as a police officer.
A Plea for Public Help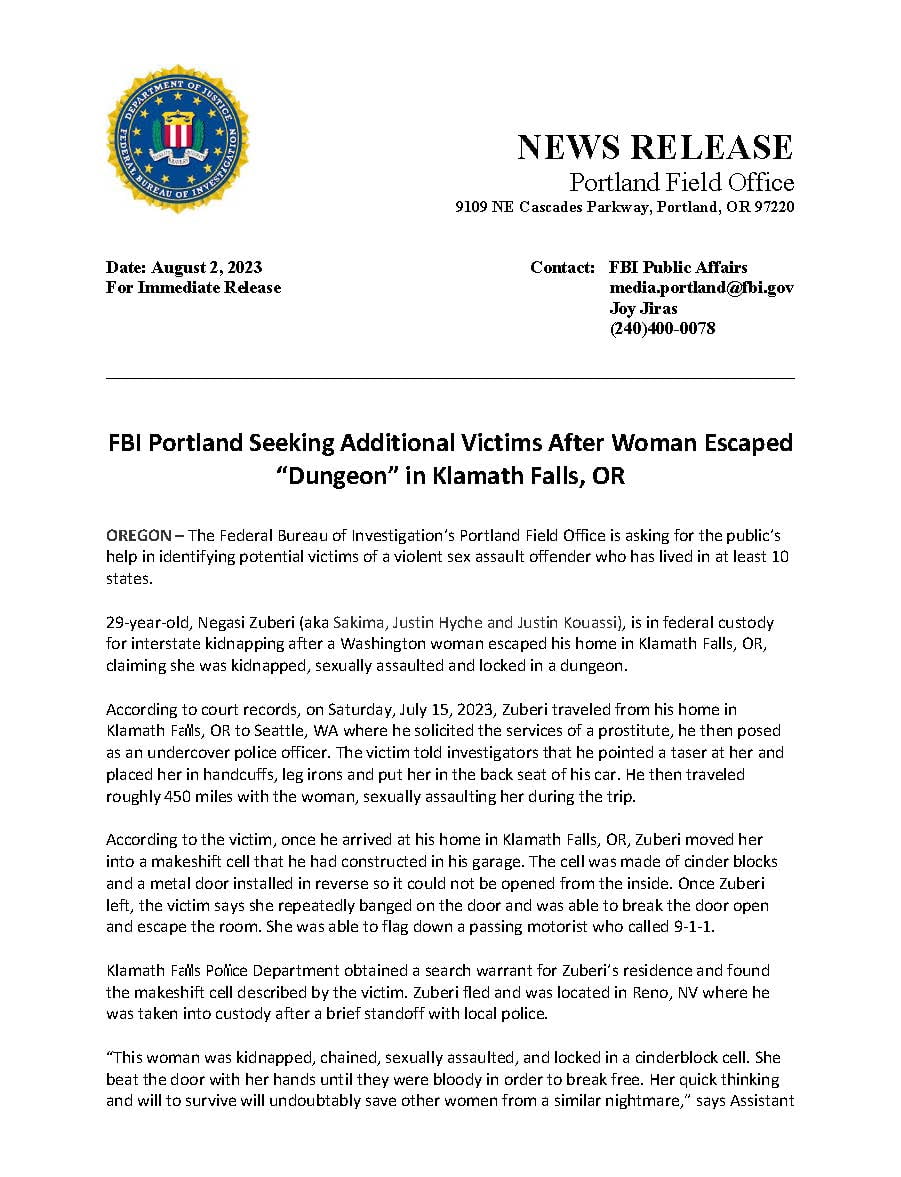 The FBI is asking for the public's help as it seeks more potential victims and additional information about Zuberi. The bureau has linked him to several violent assaults in at least four states, and there may be many more victims.
Special Agent in Charge Stephanie Shark said, "We are fortunate that this brave woman escaped and alerted authorities. While she may have helped protect future victims, sadly we have now linked Zuberi to several violent assaults, and we believe there may be many more."
Conclusion
The case of Negasi Zuberi serves as a grim reminder of the hidden dangers that lurk in our society. The courage of the victim and the relentless pursuit of justice by law enforcement have brought this terrifying story to light. The investigation continues, and the hope is that any additional victims will come forward to ensure that justice is served.