This post will help you in deleting a trusted phone or computer from the Google account. It only takes a few minutes, but it is important when your list is over-loaded with many devices. So, try this method to delete trusted devices from your Google account. After using it for a period of time, you will learn that Google provides users with the option to set up on trusted devices.
If you have enabled two-step verification on your device, you will see a prompt on the verified mobile number or trusted device. Trusted devices are for users who don't want to enter a 2-step verification code when logging in to their Google account. Moreover, trusted devices allow users to identify mobile devices or computers as "trusted." Now, you don't need to enter a verification code every time you log in.
Simple steps to remove trusted devices from your Google account:
On the Android tablet or mobile phone, first of all, open the Google Chrome browser, and then click the link http://myaccount.google.com/security that shows the device settings.
You need to enter your username and password to log in with your Google account.
After logging in, a welcome screen will be displayed.
There, you need to select the "Security" button.
Choose between two-step verification on the "Security" tab.
Now, you are required to confirm the password and click the "Next" button.
once done, scroll down further and click the "Revoke All" button to delete the trusted device from the Google account.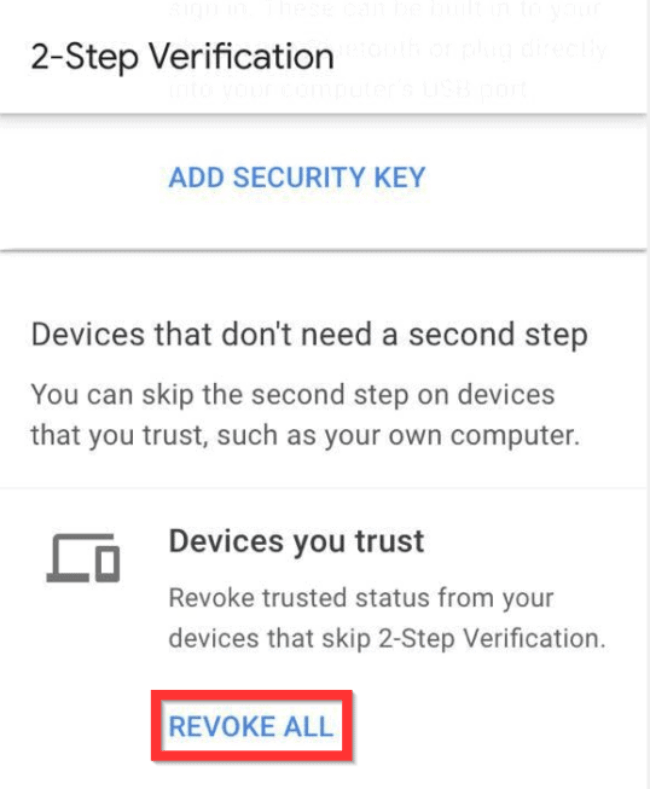 This is the easiest way to delete devices and computers from the trusted list.