Instagram is one of the most widespread social networks in the world. It is also one of the most addictive apps all over the globe. The fact that it surpassed 2 billion monthly active users last December shows the popularity of the app.
Facebook is losing users and Instagram is gaining users day by day which shows that the platform is still booming. It is difficult to leave the platform once the app is opened. Luckily, the app lets you set a limit on how much time you can spend on the app. Here is how to set a daily limit on Instagram.
Meta-owned Instagram added a new feature to its platform in 2018 that allows users to set daily time limits for using the app. The feature was added as part of the company's daily wellness tool. There are six options available to users: 15 minutes, 30 minutes, 45 minutes, one hour, two hours, and off. Users can also set break time reminders while using the app. Users can suspend their continued use of the app for 30, 20, or 10 minutes. So, here are the step-by-step instructions on how to set a daily time limit on Instagram and end your constant use of the program.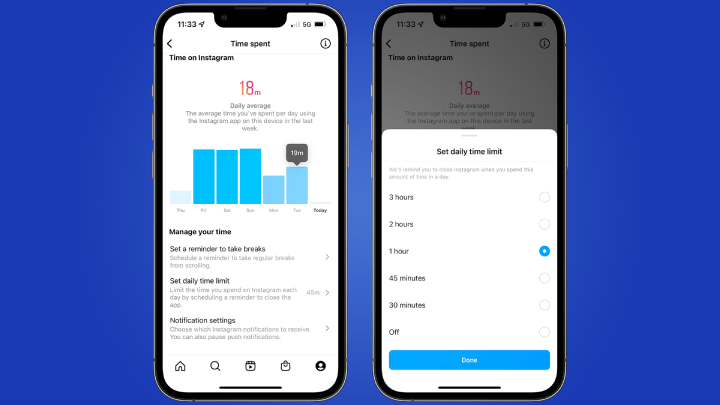 How do I set a daily time limit for the iOS and Android Instagram app?
In order to access your profile, click on your profile picture in the bottom right corner of the screen.
Now, select the hamburger menu from the drop-down menu.
After clicking your event, select a time from the drop-down menu.
On the following screen, select the Set daily time limit option.
Choose how long after which you want to exit the application.
When you have completed doing that, click Done.
How do I set a break time using Instagram's iOS and Android apps?
Firstly, tap your profile photo in the bottom right corner of the screen.
Select the hamburger menu from the hamburger menu.
After that, go to your event, then time.
On the next screen, tap the Set break reminder option.
Choose when you want to disconnect from the app.
Once finished, click Done.