Droupadi Murmu , The 15th President of India took oath on 25th July, 2022. She is India's First Tribal President. Droupadi Murmu is a Tribal Leader from Rairangpur in the Mayurbhanj district in Odisha. She is one of the most soft spoken leaders and she earned this position by sheer hard work and dedication. Not only is she the first Tribal President of India, but she also earned the title of Second woman to hold the highest office.
Madame President was born on 20th June, 1958 at Uparbeda, Mayurbhanj, Odisha, India. She belongs to Bharatiya Janta Party. Before being a President, she worked as the Governor of Jharkhand and she was the Minister of State for Fisheries and Animal. Besides, she worked as Minister of State for Commerce and Transport and she was also the Member of the Odisha Legislative Assembly. She married to Shyam Charan Murmu who was passed away in 2014 . They both were blessed with two boys who also unfortunately passed away and now she has one daughter named Itishri Murmu.
President Droupadi Murmu joined the Bharatiya Janta Party (BJP) in 1997 and was elected as the councilor of the Rairangpur Nagar Panchayat.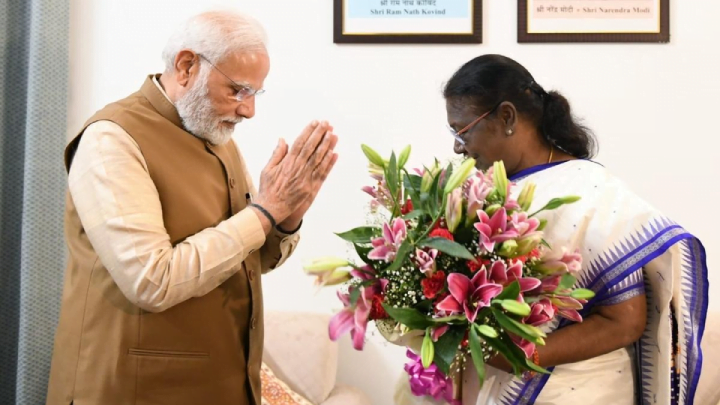 Life Story of Mrs. Draupadi Murmu
President Droupadi Murmu was pursuing her graduation when she first met Shyam Murmu in Bhubaneswar. A Village named 'Paharpur' which is around 300 Km from the capital city of Bhubaneswar is the place where our President came as a bride. Roads with covered tress, clean streets and beautiful atmosphere will take you inside the tribal village. The love marriage of this couple is still famous in that particular village of Bhubaneswar. Their Love story started from college where she was the topper. Draupadi was the only girl who was studying in Bhubaneswar from the village Uparvada (her maternal village). Draupadi and Shyam first met each other in Bhubaneswar. Later, they fell in love and decided to get married and for fulfilling his commitment to Droupadi, Shyam reached Droupadi's village to meet her parents and to ask them permission to marry Draupadi.
Shyam stayed in Draupadi's Village for three days. One of Droupadi's relative revealed that "When her father Biranchi Narayan Tudu got to know about this relation, he was fuming over Droupadi and was not happy about this relationship. But Shyam was undeterred and decided that he will only leave the place once their marriage gets finalized. Shyam had come to the village with two of his uncles and a few more friends. They all stayed in Draupadi's village for 3-4 days. On the other hand, Draupadi also made up her mind about getting married only to Shyam. At last, everything got settled. It is rightly said that, 'Good things take time'. Finally Droupadi's father agreed to their relationship." The relative also revealed that it is their custom that groom's family has to come to bride's house for marriage proposal.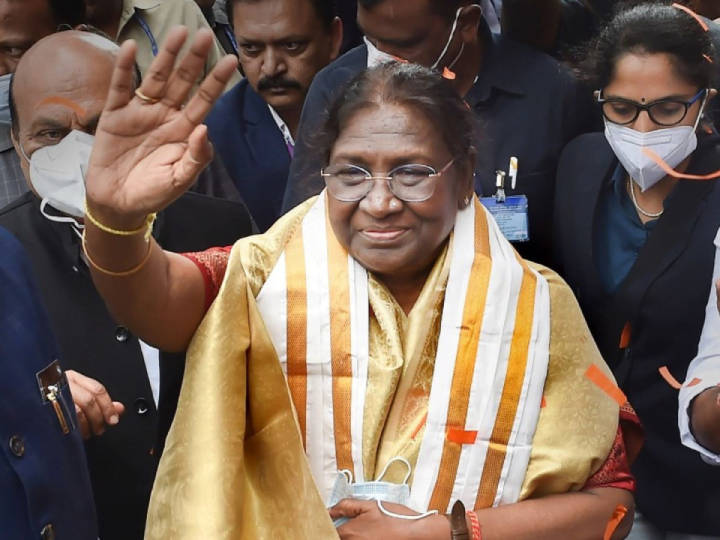 Droupadi's Aunt , Jamuna Tudu also shared that "It was decided that an ox, a cow, and 16 sets of clothes will be given as dowry, to which Droupadi's family agreed". They have such a unique love story. They both finally got married.
In this generation finding someone like Shyam Charan Murmu (President Droupadi's husband) is difficult who believed in keeping his promises.
But every love story is not a fairytale. They both faced so many ups and downs in their life especially President Droupadi Murmu. Firstly they lost their younger daughter in the year 1984. Then, on 25th October 2010, they lost their son (Laxman Murmu). The reason of his death is still not known.
The couple had hardly recovered from this trauma and again on 2nd January 2013, their elder son (Sipun Murmu) also lost his life in a road accident. Shyam Charan Murmu could not digest this news and he died due to cardiac arrest on 1st August 2014. In an Interview with President Droupadi Murmu, the interviewer asked about her husband's demise. She said, "When my second son died, the jolt was little less than before because I was doing meditation. My husband was not as strong as me, so he couldn't survive."
She further added that "I have witnessed so many ups and downs in life. I have lost my two sons and my husband. I was completely devasted. But God has given me the strength to continue to serve people." Her life was filled with so many struggles but still she chose to serve the people of India. Her hard work really paid off and now she is holding the highest office of India.
In her first address as the President, she said "I am the first President of the Country who was born in the Independent India. We will have to speed up our efforts to meet the expectations that our freedom fighters had with the citizens of Independent India".
Mrs. Droupadi Murmu is the biggest example to not loose hope even in hard times. Hope you found this article informative. Thank you for reading this article. Please feel free to share your reviews with us.